The Komodo National Park is a national park in Indonesia located within the Lesser Sunda Islands in the border region between the provinces of East Nusa Tenggara and West Nusa Tenggara.   Boat trips can be organised with local tour operators. Please note that the tour includes snorkeling at a number of locations and visiting both Komodo and Rinca Islands.  Price vary  dependent on the season, amount of guests, on sleeping accommodation on the boat and the kind of food you eat. For a good deal try to negotiate with captains directly.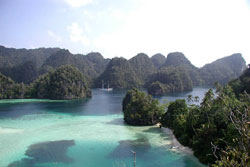 Rinca Island  Island (Indonesian: Rinca Kecil or Pulau Rinca) is a more convenient place to see Komodo Dragons than Komodo island. Some dive operators might be convinced to combine a stop at the island with a day's diving – otherwise charters can be arranged, or walk along the main street of Labuan Bajo and some tour agencies may be advertising places on an existing charter. There are big dragons that are often right in front of the pier when people arrive. On arrival a guide will escort you to the park office where you will be relieved of a range of fees, then you can choose a 1 or 2 hour hike. Presumably if you had a pass from Komodo, you would be exempt from at least some of those fees.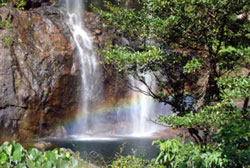 Trekking Mt. Mbeliling, Cunca Rami Water Fall and Crater Lake  The ideal region for eco-adventures. Manggarai's mountains, lakes and waterfalls offers many hiking and trekking routes to suit all experience levels of hikers. Trekking Wae Rebo is the last remaining traditional Manggaraian ethnic villages with traditional houses. It is located at an altitude of 1,125 meter above sea level in the Nature Conservation Forest. There are seven traditional houses, the so called 'Mbaru Tembong' and each of these houses hosts more than one family. The people live on agricultural products such as coffee, taro and vegetables. Other Inland Attractions During the overland trekking and sightseeing tours in Flores one can visit Kelimutu three coloured crater lakes, volcanoes Ebolo and Inerie ,and all the Megalith Villages in the area of Bajawa.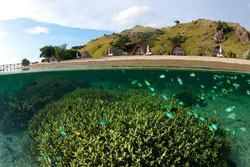 Diving The Komodo National Park offers dozens of very pristine dive sites, with many migratory pelagics, vibrant reefs- making it one of the world's richest marine habitats. The Park is located just offshore and easily reached by liveaboard operators, although day-trips may take two hours or more in each direction. There are many dive operators with offices in the main street that offer dive courses, fun dives and 3 day live aboards. . Most are quite safe and know what they are doing, however, the currents around Komodo can be quite strong, and are not for beginners. Make sure you talk to different dive-centers around town and talk to them about how experienced their staff is with the local conditions.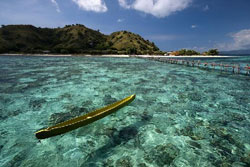 Kanawa Island A beautiful tropical island less than an hour by boat from Labuam Bajo. Crystal clear water allows you to snorkel straight off the white sandy beach. There are bungalows to rent or you can just take a day trip. There is a restaurant and bar where you can relax.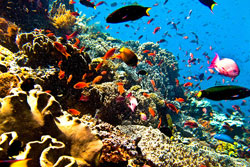 Snorkelling Labuan Bajo is the most convenient point from which to go snorkelling in the Komodo National Park. The snorkeling within the park offers many opportunities to see pristine reefs with some of the greatest fish and coral diversity in the world. Sea Kayaking and SUP'ing Many of the islands in the chain are either inaccessible to large boats or difficult to access. However with a sea kayak, you can travel anywhere you like. Into small grottos and bays, around rocky points and slowly above shallow reefs brimming with fish. There are dozens of uninhabited islands within and just outside the Komodo National Park. Many of these are only accessible by unmotorised vessels such as sea kayaks and SUP's
Seraya Island Seraya Island (Indonesian: Pulau Seraya) is little more than a small, arid island outside of the Komodo National Park with a few bamboo huts for tourist lodging, a restaurant, and some villagers who let their goats graze on vegetation. The island's cove is protected from the sea, providing calm and clear water for snorkeling. At low tide the coral is exposed and local fishermen walk on the reef in search of prey. Rowboats can be rented and taken to nearby islands for snorkeling and diving. Make sure to run up to the top of the hill behind the resorts and check out the sunset. The lodges on the island do have showers, but running water is only available a few hours a day.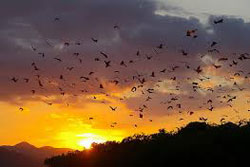 Thousands of Flying Fox Bats emerge from Kalong Island at dusk One of the more spectacular displays of nature in the area is at Kalong Island(Indonesian: Pulau Kalong; also spelt Kalung), which literally means "Flying Fox Island." The name is quite appropriate as the island is home to thousands of Kalong, or giant flying fox bats. Boats to Kalong can be chartered from Labuan bajo for around Rp 300,000 for a return ride, including a snorkeling stop at a nearby island before you reach Pulau Kalong. Your boat will be moored next to the mangrove island and at dusk literally tens of thousands of flying foxes emerge from the mangrove island and move over your boat towards Rinca Island. For the entire colony to emerge will take roughly 20 min of continuous waves of bats passing over your boat. The boat ride to/from Labuan bajo will take roughly one hour.